As your tour leader, professional travel writer, moto-journalist and Cuba expert Christopher P. Baker works to ensure that your experience motorcycling in Cuba is truly memorable.
Christopher—the Lowell Thomas Award 2008 'Travel Journalist of the Year'—has been acclaimed by National Geographic as one of the world's leading Cuba travel experts. In addition to riding "sweep," ensuring the cohesion of the group, and attending to logistics, Christopher brings something unique to these tours… An ability to share a profound knowledge of Cuba, providing unparalleled context for your travel experience.
He has more than 30 years experience leading tours as far afield as Britain, Colombia, Costa Rica, New Zealand, and South Korea… and of course, Cuba!
In 1996  he shipped his BMW R100GS PD to Cuba and made a three-month motorcycle journey as a licensed journalist, resulting in publication of his Moon Cuba guidebook and his award-winning National Geographic travelogue Mi Moto Fidel: Motorcycling Through Castro's Cuba.
In January 2013, Christopher led the first licensed U.S. motorcycle group tour of Cuba end-to-end since the 1959 Revolution. He has since led numerous motorcycle tours on behalf of MotoDiscovery and RTW Moto Tours, as well as almost one hundred "people-to-people" trips to Cuba on behalf of Air Journeys, Lindblad Expeditions and National Geographic Expeditions, among other prestigious tour companies. In 2018 he will begin leading tours on behalf of Edelweiss Bike Travel, the world's foremost motorcycle tour company.
He has written about motorcycling in Cuba for such publications as Adventure Motorcyclist, BMW ON, Motorcyclist, National Geographic Traveler, and Rider.
His six books about Cuba include the coffee-table book Cuba Classics: A Celebration of Vintage American Motorcycles and National Geographic Traveler Cuba guidebook, in addition to a 2017 Cars of Cuba calendar.
He appears frequently on radio and television talk shows throughout North America and has appeared on TV and radio interviews for CNN, Fox News Channel, MSNBC, and NPR, etc.
Click 

here

for more details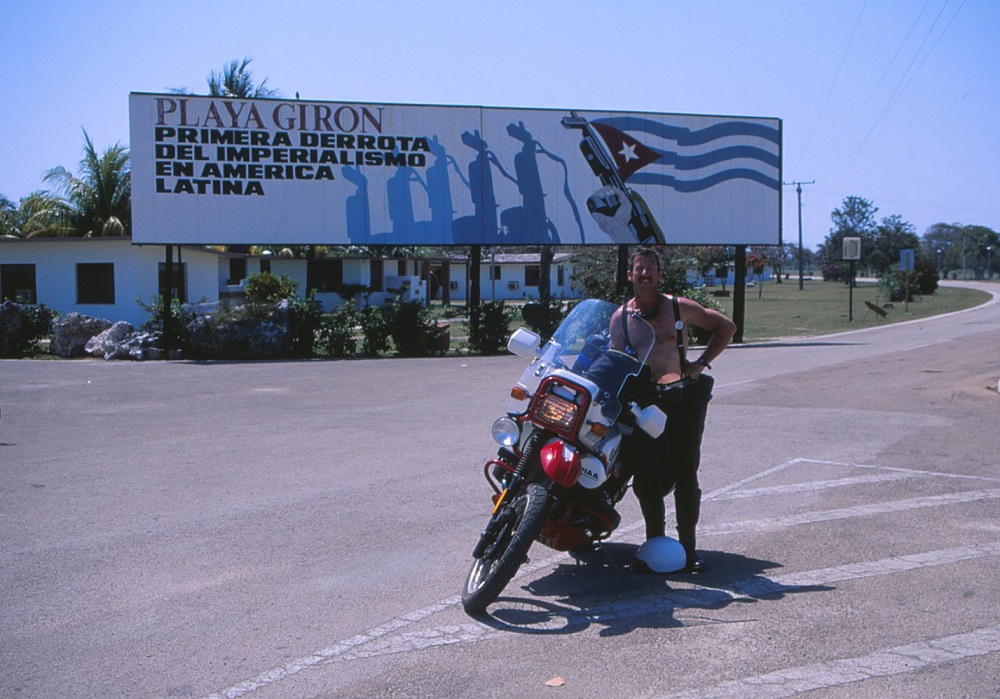 Christopher P Baker with his BMW R100GS at Playa Girón, Bay of Pigs, Cuba, 1996
copyright Christopher P Baker

Christopher P Baker with his BMW R1200GS at Playa Girón, Bay of Pigs, Cuba, 2015
copyright Christopher P Baker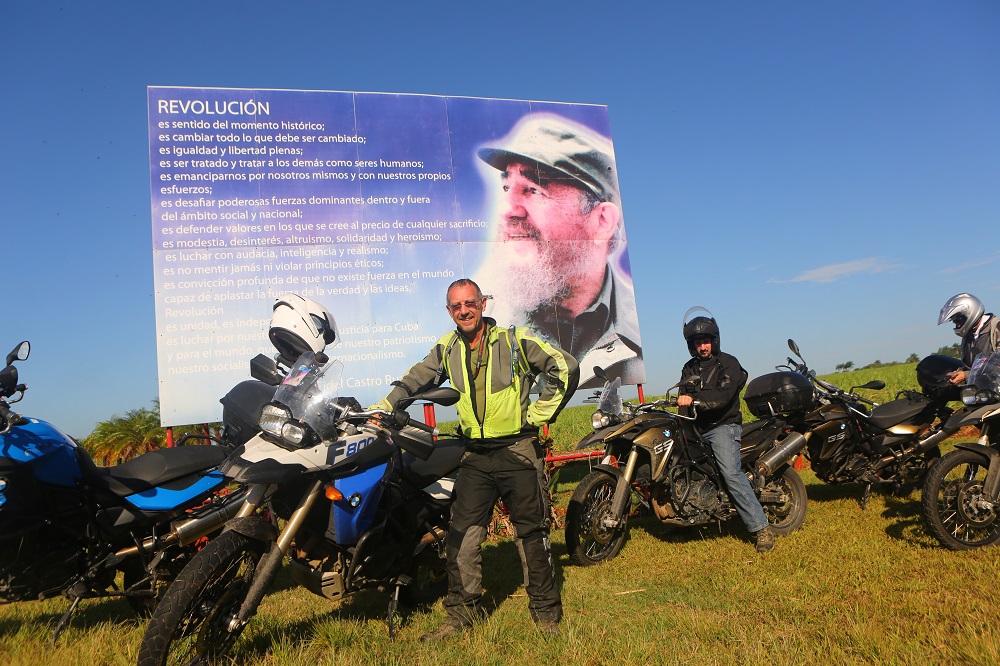 Christopher P Baker as tour lader with motorcycle tour members beside a billboard of Fidel Castro, Cuba
copyright Christopher P Baker